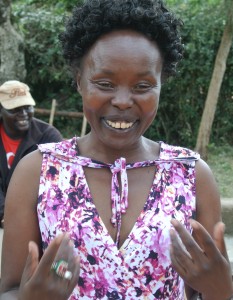 "Last year I visited Kakuma, the refugee camp in northwest Kenya where there are South Sudanese, Somali, Somalis, Rwandans and Burundians. I saw many young people, some who had practiced sports in their country before becoming refugees, who trained while living in a very difficult situation, and without an adequate diet. I told myself I had to do something."
Tegla Loroupe, a legendary Kenyan marathoner, explains to a group of girls her most recent initiative.
"This is one of the beautiful things of the sport: it helps you to see beyond the labels, so that the others are not Somali or Rwandans or refugees, but people like you, who are committed to achieving results, who like you rejoice in a victory and like you decide to try harder if they have not reached the goals they had set for themselves".
Tegla has achieved many goals in her life. In the 2000 Olympics in Sydney, she was the favorite in the women's marathon and 10,000 meters. She had already won most of the major marathons and had established, beside the record for the women marathon, also the world record for the women's 20, 25 and 30 kilometers, still standing today. It had also already set the world record of women's One Hour, puttin it at 18,340 meters. The night before the Olympic marathon in Sydney, Tegla suffered for a violent food poisoning, so violent that his health remained mined for over a year. Yet after a night plagued by vomiting and diarrhea, he showed up at the start and despite recurring stomach cramps, fought to the end, coming thirteenth. The next day he showed up for the semifinals of the 10,000 meters, qualified, and the next day again she managed to arrive fifth. Always barefoot. All because, as she says without too much stress, "I had to hold high the Kenyan flag".
Tegla run her last important race in 2007, but she did not retire. She was is appointed Ambassador of Sport by the United Nations and through her foundation, the Tegla Loroupe Peace Foundation, based at Shalom House in Nairobi, she has attended and promoted peace initiatives around the world.
Today Tegla is beaming because her action to promote sport among refugees has made a breakthrough. In coordination with the Kenyan Olympic Committee and with the support of the International Olympic Committee she has managed to start a small training center for refugee athletes on the Ngong hills just outside Nairobi. She explains: "Twenty refugees from neighbouring countries shall train here, together with some Kenyan athletes, because sports people, true sports people, compete for their country, but they are people who know how to live together and promote peace. The scenes of violence that are seen in some so-called sports events are absolutely unacceptable. Sport is peace! This new centre to prepare East African refugee athletes to participate in the Olympic Games in Rio de Janeiro next year is, to my knowledge, the first such an attempt. I'm sure that from the athletes who will train here we will have some Olympic champions, because their potential and their will is enormous. Some people ask me, and if the countries of origin do not accept to include them in the national team? We will find a way to overcome this obstacle. These athletes will be even more than the others, a great sign of peace. You cannot run if you do not breathe, isn't it? Peace there is the breath of the world, where there is no peace you die, both physically and inside, in the heart".
The girl that the Kenyan athletics federation had initially considered too small and too thin to be able to run in international competitions, continues to run with the stubbornness that distinguishes her. Not for another gold medal: for peace.